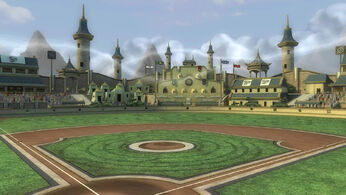 The Air Temple Courtyard is a field that appears in Nicktoons MLB and is from Avatar: The Last Airbender.
The field is just simple green gras and the runway is similar to street fields. The air temple can be seen on the background which mostly looks like the Eastern Air Temple from the series. There are towers ad tribunes styled in that way, there is a strong wind and several mountains can be seen further on the background.
Ad blocker interference detected!
Wikia is a free-to-use site that makes money from advertising. We have a modified experience for viewers using ad blockers

Wikia is not accessible if you've made further modifications. Remove the custom ad blocker rule(s) and the page will load as expected.