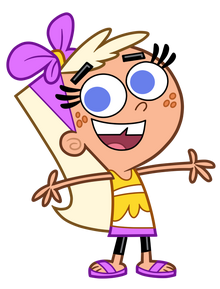 Chloe Carmichael is Timmy 's new neighbor. He also has to share his fairies with her as of the premiere of Season 10, due to a shortage of Fairy Godparents being available to children. She is voiced by Kari Wahlgren and was introduced in Season 10's first episode, The Big Fairy Share Scare. She is currently a co-protagonist of the show, alongside Timmy, Cosmo and Wanda.
Ad blocker interference detected!
Wikia is a free-to-use site that makes money from advertising. We have a modified experience for viewers using ad blockers

Wikia is not accessible if you've made further modifications. Remove the custom ad blocker rule(s) and the page will load as expected.