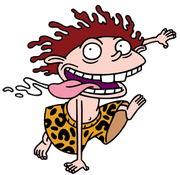 Donnie Thornberry is a feral boy who was raised by orangutans after his real parents, a pair of naturalists, were killed by poachers. Before the Thornberrys adopted him, the special also reveals that Nigel and Marianne knew his parents. He commonly wears a pair of leopard-spotted shorts and he loves to eat all types of bugs. He babbles wildly and makes animal-sounds (but nothing Eliza can understand), occasionally spouting blurbs of English or showing random signs of sophisticated education. Donnie is 4, but turns 5 in "The Origin of Donnie". It was shown that while his parents were teaching orangutans sign language, he learned as well. Though only one sign was shown (family), it is unknown how much he actually knows. This also shows that aside from his primal behavior, Donnie is rather intelligent.
Nicktoons: Attack of the Toybots
Edit
Donnie appears as a collectable data-card in Nicktoons: Attack of the Toybots. He represents The Wild Thornberrys series.
Nicktoons: Toons Wars
Edit
Donnie appears as a collectable trophy in The Wild Thornberrys.
Ad blocker interference detected!
Wikia is a free-to-use site that makes money from advertising. We have a modified experience for viewers using ad blockers

Wikia is not accessible if you've made further modifications. Remove the custom ad blocker rule(s) and the page will load as expected.