Cujo (also known as Ghost Dog) is a small ghostly dog that appeared in the episode Shades of Gray. Though seemingly harmless, he can change from a cute little puppy into an enormous, rabid, dog monster.
Nicktoons: Globs of Doom
Edit
Cujo is a boss in
Nicktoons: Globs of Doom
. Cujo also got infected by the orange goo and headed towards the Axion Labs.
Tak
and
Beautiful Gorgeous
then battled Cujo and after they beat him he ran into a wall and the goo from him got spilled all over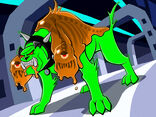 Cujo.
Nicktoons: Toons Wars
Edit
Cujo appeared as mini-boss in Nicktoons: Globs of Doom. When the heroes arrive at Axion Labs Valerie becomes very mad at Cujo and attacks him and Cujo gets mad. Cujo then transforms into a giant monster and they battle him. After they battled him he turns back into a cute little dog.