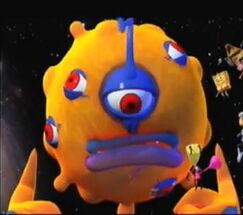 Globulous was first thought to be the main antoganist from Nicktoons: Globs of Doom. He wanted to destroy the Earth because he was a bogger from the Big Sneeze. The team then fought him inside of the Vessel of Portentia and defeated him. Afterwards the villains threw the heroes out of the ship, Globulous then transformed into SpongeGlob and battled the Vessel of Portentia and defeated it. He said goodbye to everyone and left.
Ad blocker interference detected!
Wikia is a free-to-use site that makes money from advertising. We have a modified experience for viewers using ad blockers

Wikia is not accessible if you've made further modifications. Remove the custom ad blocker rule(s) and the page will load as expected.