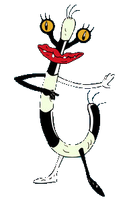 Oblina is a female monster. She often fights with Ickis, one of her two room mates. Oblina goes to the Monster Academy for an education. She is the brains of the group and is very well behaved, unlike Ickis and Krumm. Oblina treats Krumm very well, so much that once Krumm thought that she had a "squish" on him. She is thought to be Cheese's best student.
Nicktoons MLB
Edit
Oblina phil ickis roger skeeter porkchop appears as a background character in the loading screens of Nicktoons MLB.
Nicktoons: Toons Wars
Edit
Oblina appears as a throphy in Nicktoons: Toons Wars. Oblina also appears in the background of the Monster Acamedy stage,
Ad blocker interference detected!
Wikia is a free-to-use site that makes money from advertising. We have a modified experience for viewers using ad blockers

Wikia is not accessible if you've made further modifications. Remove the custom ad blocker rule(s) and the page will load as expected.