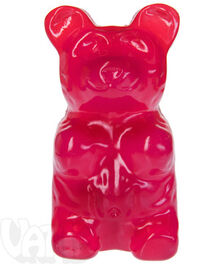 Pat and Nnamdi are playable characters in Nicktoons:Toon War. They are from the Patrick Nnamdi Chi-Chi Show.
GUMMY TOSS
Gummy toss is Pat & Nnamdi's neutral special. Nnamdi chucks a gummy bear in the direction he is facing. This move can also be charged, the longer the charge the more gummy bears he throws.
SWORD SLASH
Sword slash is Pat & Nnamdi's side special. Pat dashes forward with his ninja sword dealing high damage. This can also be used as a sideways recovery.
WINGED GUMMY BEAR
Winged gummy bear is Pat & Nnamdi's up special. Nnamdi pulls out a winged gummy bear and you can repeatedly press the up button to go high. This is one of the best recoveries in the game. The jumps are unlimited but if you are hit then you fall instantly.
NINJA STRIKE
Ninja strike is Pat & Nnamdi's down special. Pat pulls out his ninja sword and slams down. This attack has low damage but high knockback.
SHRINK 'N SLASH
Shrink 'n slash is Pat & Nnamdi's war strike. Nnamdi gets his growth/shrink ray and grows Pat's ninja sword. Then Nnamdi shrinks all the players on screen while you (playing as Pat) get your gigantic sword and start slicing them,dealing massively high damage.