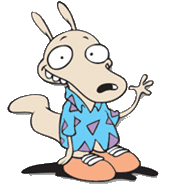 Rocko Wallaby is a wallaby who emigrated from Australia to the United States. He is 20 years old. He is a sensible, moral, and somewhat timid character who enjoys the simple pleasures in life, such as doing his laundry or feeding his dog, Spunky. He is neat, compassionate, and self-conscious. He wears a blue shirt with purple triangles on it that he has become quite attached to. He doesn't wear any pants. Rocko usually works at "Kind of a Lot o' Comics" (but once worked at Conglom-O where Ed Bighead attempted to make him quit) and his hobbies include recreational jackhammering and pining for the love of his life, Melba Toast. chrissie
Nicktoons: Attack of the Toybots
Edit
Rocko appears as a playable unlockable character in Nicktoons: Attack of the Toybots. Rocko was rescued by the heroes somewhere in the factory.
He fights by kicking and his special costume is Pelgrim Rocko.
Nicktoons: Toons Wars
Edit
Rocko, Spunky, Filburt, and Ghoulia Yelps appear as assist characters in Nicktoons: Toons Wars. When Rocko appears he will grab a comic book and then suddenly shoot a rainbow out of his comic book that then can be used as an extra platform.