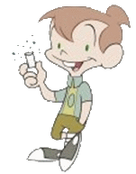 Rudolph Bartholomew "Rudy" Tabootie is the main character. He is in Fifth Grade. He travels to Chalkzone with his best friends Penny and Snap. He has a magic chalk that he can use to draw portals into ChalkZone and draw things out of thin air. It has been suggested throughout the series that he has a crush on Penny.
Nicktoons: Attack of the Toybots
Edit
Rudy appears as a data-card in Nicktoons: Attack of the Toybots. He represents the Chalkzone series.
Nicktoons: Toons Wars
Edit
Rudy appears as an assist trophy in Nicktoons: Toons Wars.
When Rudy is summoned he will draw a circle in the air with his magic chalk and several simple drawings step out of the portal mostly animal-like drawings and then run around doing damage to anyone who hits them.
Ad blocker interference detected!
Wikia is a free-to-use site that makes money from advertising. We have a modified experience for viewers using ad blockers

Wikia is not accessible if you've made further modifications. Remove the custom ad blocker rule(s) and the page will load as expected.