Sid Bricky is a character from the Lego Universe.His attacks include skateboards and turbo shells.
GRUMPY TOSS
Grumpy Toss is Sid Bricky's neutral special.He tosses Grumpy in whatever direction he is facing.
SKATEBOARDED
Skateboarded is his side special.Sid gets out his skateboard and rides into the nearest opponent.If you charge it up he rides for longer.
TURBO-BOOST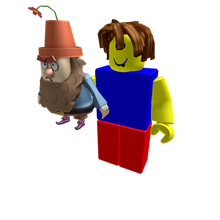 Turbo-boost is Sid's up special.He gets his turbo shell and boosts upwards.This is a good recovery.
HEALING RUBY
Healing ruby is his down special.He gets his ruby and heals a tiny bit.This does no damage to the enemy.NOTE:you can't spam this.
HOT HOT HOT WHEELZ!!!!
Hot hot hot wheelz is Sid's War Strike. He gets his twinduction car that turns into a monster truck. Then you get run over all your enemies.NOTE:if you fall off the car gets destroyed...(keep this in mind)
Ad blocker interference detected!
Wikia is a free-to-use site that makes money from advertising. We have a modified experience for viewers using ad blockers

Wikia is not accessible if you've made further modifications. Remove the custom ad blocker rule(s) and the page will load as expected.